Lake Mead's 14-Year Drought Drops Water Level to Historic Low
<< back to releases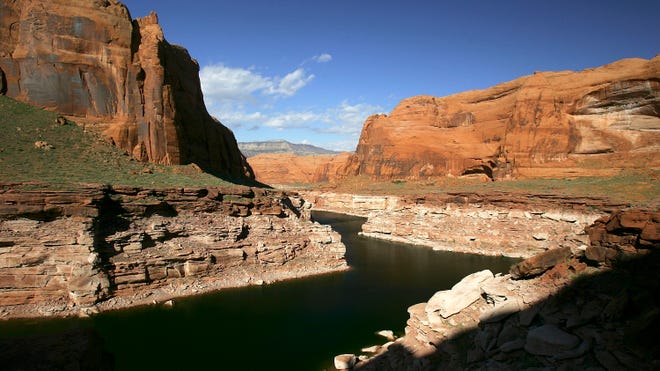 Once-teeming Lake Mead marinas are idle as a 14-year drought steadily drops water to historic lows.
Officials from nearby Las Vegas are pushing conservation, but are also drilling a new pipeline to keep drawing water from the lake.
And hundreds of miles away, farmers who receive water from the lake behind Hoover Dam are preparing for the worst.
The receding shoreline at one of the main reservoirs in the vast Colorado River System is raising concerns about the future of a network serving a perennially parched region home to 40 million people and 4 million acres of farmland.
Marina operators, water managers and farmers who for decades have chased every drop of water across the booming southwest USA and part of Mexico are closely tracking the reservoir level, already at its lowest point since it was first filled in the 1930s.
"We just hope for rain and snow up in Colorado, so it'll come our way," said marina operator Steve Biggs, referring to precipitation in the Rockies that flows down the Colorado River to help fill the reservoir separating Nevada and Arizona.
By 2016, continued drought could trigger cuts in water deliveries to both states. While water authorities say they've been saving water for potential dry days, the prospect of first cuts is already prompting action.
"I've downsized in the last couple of years, which is probably a good thing the way this water shortage is going," said farmer Dennis Bagnall, who has planted just 225 of the 1,500 acres that are typically green this time of year on his farm south of Phoenix.
Federal officials and water administrators in metro areas such as Las Vegas and Phoenix say they're committed to finding new ways to make every drop of water count -- from cloud seeding to pipelines to desalination plants.
But they're all watching Lake Mead, the biggest in a Colorado River basin that supplies water to California, Arizona, Colorado, New Mexico, Nevada, Utah, Wyoming and even Mexico.
The lake is expected to drop to 1,080 feet above sea level this year – down from a high of 1,225 feet in 1983.
A projected level of 1,075 feet in January, 2016, would trigger cuts in water deliveries to Arizona and Nevada.
And at 1,000 feet, drinking water intakes would go dry in Las Vegas, a city of 2 million residents and a destination for 40 million tourists per year.